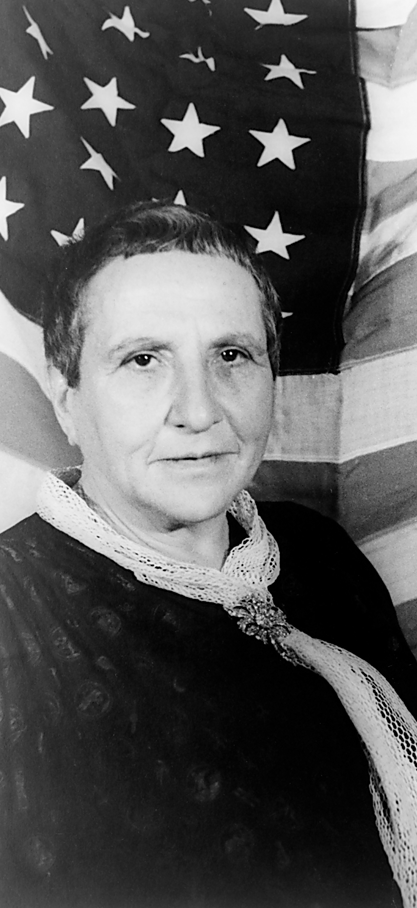 School of Arts and Sciences at Hunter College, CUNY
ANNOUNCEMENTS:
GERTRUDE STEIN AT THE ALA 2016 (May 26-29, San Francisco)
We are happy to announce that the Stein Society will host one panel at the 2016 American Literature Association conference in San Francisco, May 26-29. The panel will be chaired by Sharon Kirsch, co-editor with Janet Boyd of Primary Stein: Returning to the Writing of Gertrude Stein, and Associate Professor at Arizona State University. The panel information is as follows:
Session 21-D Gertrude Stein in New Contexts
Saturday May 28, 5:10 pm
Chair: Sharon Kirsch, Arizona State University
"Perfectly Franc: Gertrude Stein and the Exchange Crisis" Michael Soto, Trinity University
"Compos(t)ition as Explanation: Gertrude Stein's New Material" Jenna Goldsmith, University of Kentucky
"Gertrude Stein's Surrealist Years" Ery Shin, Eureka College
"Modernism Made Round the Ring: Gertrude Stein and the Capitalist Cross-Cultural Circus" Laurel Recker, University of California -Davis
CALL FOR PAPERS: PAMLA 2016 (November 11-13, Pasadena)
Amy Robbins is presiding over the Poetry and Poetics panels at PAMLA. As there will be no Gertrude Stein session this is an open call, but of course papers on Stein's work are always welcome:
The standing Poetry and Poetics session seeks abstract submissions exploring any aspects of poetry and poetics, but paper proposals on any of the following three topics are particularly welcome:
the presence and role of the person(al) in linguistically experimental poetics
ecopoetics
the conference theme of "Archives, Libraries, Properties" in relation to modern and/or contemporary American poetry.
Please send a 250 word abstract and current CV to Amy.Robbins@hunter.cuny.edu with PAMLA SUBMISSION in the subject line. The deadline for submissions is JUNE 10, 2016. All submissions will also need to go through the PAMLA online tool, which will require a 50 word abstract and a longer proposal (up to 500 words). I will provide those details when they come available.